Sweet Seminary
How seminary affects students.
Seminary is a religious education program for high school students. It is operated by the Church of Jesus Christ of Latter Day Saints, but it is open to all teens of any faith. 
Students and teachers meet every weekday and study the scriptures (The Bible, The Book of Mormon, The Doctrine and Covenants, and The Pearl of Great Price). In most cases seminary takes place in the morning before school, usually at 5:55 am. 
Some may think that getting up that early in the morning can be hard for students, and negatively affect their school work. Megan Sorensen is a student who attends seminary and she says quite the opposite. 
"It has never negatively affected my schoolwork, if anything it helps it. Getting up earlier and starting my day with an easy and interesting class like it helps prepare me for my day," Sorensen said. 
The purpose of seminary is to help students understand and rely upon the teachings of Christ. Junior Emily Miller sees this throughout her daily attendance. 
"I go to seminary to gain a stronger testimony in the gospel and to learn more about the church's teachings and to dig deeper in their truths," Miller said. 
Shannon McCune is one of the teachers for seminary, and teaches the junior class.
 "Teaching seminary gives me the opportunity to teach about Jesus every single day. Because of my belief in Jesus and how much he has done for me in my life, I figured I could do a little something for him too, even if that involves getting up at 5:00 am every morning," McCune said. 
McCune also has no problem waking up an hour earlier. In fact she says she enjoys it, that it helps her get a start on the day.
"I love starting every day in the scriptures. A lot of people I know work out first thing in the morning. Seminary is kind of a spiritual workout. It provides us with strength and perspective we don't always have otherwise and in my opinion, it's really important to have that, especially when you're a teenager," McCune said. 
Miller is in multiple AP classes and has to wake up earlier to get her homework finished so that she can still go to seminary. 
"It doesn't necessarily affect the schoolwork, but in order to finish homework in the mornings, I have to wake up at about 4:15-4:30 so that I can make seminary a priority," Miller said. 
 "The thing I like most about seminary is being able to start my day with gospel and scripture study. I love the lessons that are taught every morning, and I love being able to grow my faith," said Miller. 
As a seminary teacher you also have to have the lessons prepared out every day for the week.
"In addition to teaching every morning, I have to prepare lessons during the day. Because I am spending so much time learning about spiritual things, I have noticed such peace come into my life. For me, spiritual things bring perspective to my life unlike any meme, social media, or other endeavor could. And life is hard so having that perspective has been an awesome experience for me," McCune said. 
Overall, attending seminary has a positive effect on students inside and outside of school. This early morning class is important because it puts students with the same values together. Seminary helps students increase their faith and build good habits throughout high school.
View Comments (1)
About the Contributor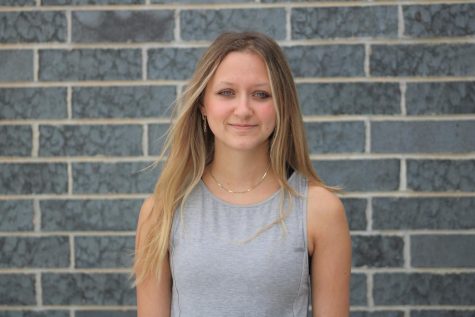 Ellie Kennington, Reporter
Ellie Kennington is a senior, it is her second year on staff and she is a reporter. Outside of school she works as a host at a restaurant and loves to shop.