Free Food For All
Elkhorn Public Schools received a grant for free school lunches until the end of the year.
The federal government granted all schools in the United States free lunches until December 31st, how does this affect students? 
Almost all students have not seen or experienced anything like this before, so they are very excited. Although Mr. Radicia, principal at Elkhorn North, has. Elkhorn Public Schools received a very similar grant over the summer for free lunches.
All schools across the United States had to apply to receive the grant, but it was a given that if they applied, they would get it. This is allowing tons of students nationwide to get free lunch at their school.
This grant allows students to not have to pay for the basics at lunch. So, they get a main meal, a fruit or a vegetable, and milk free of cost. Although, extras such as a soda, potato chips, or a cookie are extra.
This means parents get to save a lot of money when you add things up. Radicia explained that regularly students might pay $3-4 a day, so about $15-18 a week for lunches, so that is what parents are saving. This is very beneficial to families because it allows them to spend money on other important things for their child. 
During a global pandemic having extra money saved for emergencies or other necessities needed during this time, such as masks or hand sanitizer is important. "I think that it's nice because a lot of parents lost their jobs and they can't provide for their kids, so it's nice that this is the last thing they have to worry about," Shannah Hudgins said.
Hudgins, a sophomore at ENHS, regularly gets hot lunches but was unaware Elkhorn had received the grant. On the other hand, freshman Ryker Pithan, were aware of the grant and excited about its benefits.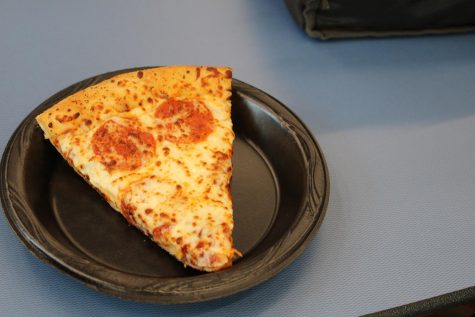 "I think it's awesome because my mom doesn't complain about me getting too much," Pithan said. He explained that because the main course is free, students can enjoy the extras for the same cost as if they just got the basics. This allows students and their parents to both be happy with their lunch habits.
Students, parents and administrators of Elkhorn Public Schools are ecstatic about receiving a grant for free lunches. Overall there are many benefits that help families everywhere; the main one being saving money. 
Students and parents can enjoy these benefits of free lunches until December 31st. There is hope that the grant will be renewed in January 2021, but it is still uncertain.