In the Classroom and On the Field
Teaching in coaching in high school is something many teachers enjoy doing
The teaching profession is hard enough as is, but there are many who add coaching careers to their already heavy workload. Despite having to prepare for daily lessons, grade papers, help students, and also prepare for practices and games, coach players, and so much more, most of these teachers love coaching sports. And here at Elkhorn North, there are several teachers who extend their daily tasks to coaching as well.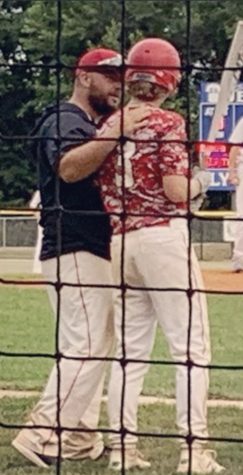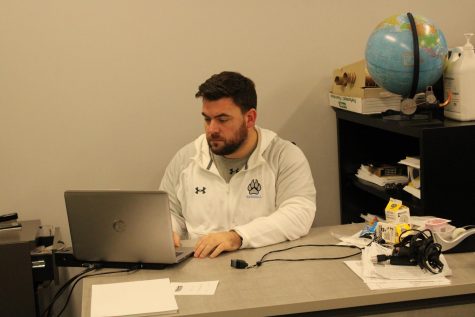 Anthony Dunn, former teacher and coach at Bellevue East and, more recently, Papillion LaVista, teaches AP World History and World Geography and is also the baseball head coach and an assistant football coach. A lot said there, which goes to show how busy of a guy he is. 
Around this time of year, Dunn starts out the morning bright and early at 6 a.m. for football and baseball weight lifting. He then heads up to his classroom and gets ready for the day. Teaching an AP class is no easy feat, and it keeps him working hard all the time. After school, Dunn goes to either the Elkhorn Athletic Association facility or stays at Elkhorn North for hitting and pitching practices. These usually last until about 6 p.m. He then leaves for home, usually has teaching duties to fulfill, and still makes time for his family on top of it all. 
It's safe to say that not many people could have that kind of a schedule day in and day out and still live as happy and energetic of a life as he does.
"For me it's seeing kids grow. At 14, it's hard for kids to see their potential, so as a teacher and coach you can continue to push them to be their absolute best," Dunn said when asked about his favorite part about teaching and coaching. "When you start to see kids realizing that, when you start to see kids doing those things, that's the immediate impact you see and it brings me a lot of joy."
Being as busy as he is, Dunn has to work hard to find time to spend with his family.
"When I go home, I try to be intentional about putting the phone away and trying to be with my family as much as I can. It's hard, but we make it work," Dunn said when asked about how he manages to spend time with his family.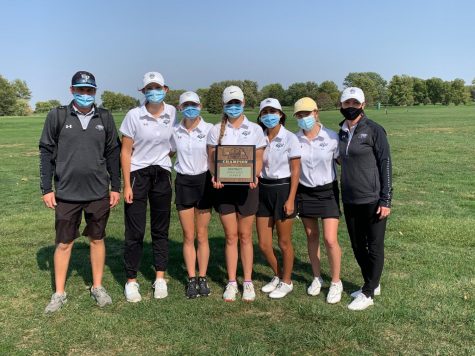 But the busy life isn't limited to Dunn only. Michelle Seger, a math teacher and assistant girls golf coach, lives a similar lifestyle.
"We begin preparation for our season in the summer with range and short game practice," Seger said. "During the season, I work with the girls at practice at Indian Creek after school, attend all JV competitions, district, and state tournaments, and help coordinate team communications."
During the fall is when she is the busiest. Golf meets are weekly, and sometimes daily events. On top of that, math is a subject that many students ask extensive questions outside of class about. 
"In the fall, I am only available before school which can be hard at times," Seger said. "Luckily, Elkhorn has support systems in place after school if students need extra help."
Seger loves working with students and the athletes she coaches. Like all other teachers that coach, they have a unique perspective on seeing kids develop.
"I love seeing students achieve their goals both in the classroom and on the golf course," Seger said. "It is rewarding to know that you have made a difference in the life of a student. The connections made with both students and athletes are fulfilling and keep me going on long and busy days."
Wolf sits at his desk awaiting class (Photo by Caleb Po)Finally, Bob Wolf, a 36 year teacher with 23 of them in the Elkhorn district teaches biology and anatomy and coaches cross country and track. Typically, he's doing things year round and he loves coaching as much as anyone.
"One, teaching and coaching are pretty much the same activity," Wolf said. "Second, coaching allows you to understand kids at a different level which makes it easier to teach them."
Wolf loves being around students and being in the Elkhorn district and community for so long; the school is like a family to him. Even being as busy as he is, being around people when coaching sports and teaching makes up for it.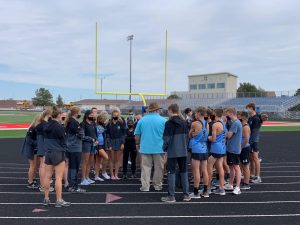 "I never feel like I'm overwhelmed," Wolf said. What draws me to teaching and coaching is the energy of the kids, and they make everything else easier."
Doubling up on teaching and coaching can be hard, but these teachers love doing it and that's what counts. They work hard to stay consistent and are always trying their best to perform as well as they can with their jobs. It's no light work, but they have fun doing
it and make the environment better for students and student athletes. "The number of kids who text you at 20 years old give their thanks is really why we're in it," Dunn said.