Fall Sports Preview
The Elkhorn North fall sports squads prepare for their second ever season
School is back and classes are well underway, meaning fall sports are on the horizon. In Elkhorn North's second year of operation, seniors are now a part of the school, which means that all athletics make a big stride forward. And with a big stride comes excitement across the board. It has been nothing but anticipation leading up to this season of fall sports as the athletes of Elkhorn North prepare for their first ever season with seniors, and with a once in a lifetime opportunity of having full returning rosters for every sport.
Here is a refresh on each fall sports team at Elkhorn North as the 2021 season gets into the full swing of things:
Girls' Golf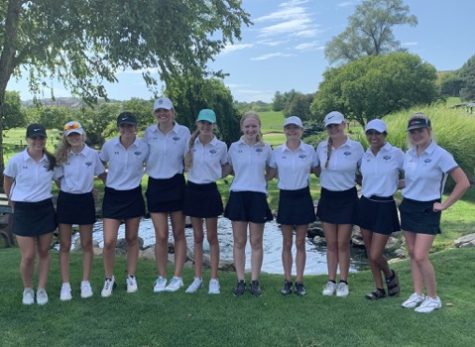 After an impressive district championship and run in state last year, the Elkhorn North girls' golf team seems poised to repeat and even top their feats accomplished last year. Led by sisters Emily Karmazin and Julia Karmazin, along with a host of other promising golfers, the Wolves won the EMC championship last year, the district championship, and had an incredible finish placing third at state. 
"We have pretty high expectations for this season," Assistant Coach Michelle Seger said. "We finished well last year and we had a great start at our first tournament this year taking second place behind Millard North. We are really looking forward to the season and have high expectations for competing both at districts and at state." 
The Wolves are off to a great start with their top three, Julia Karmazin, Emily Karmazin, and Ellie Houston, all shooting personal bests last weekend at the Elkhorn South invite. It should be an exciting season for the Wolves.
Boys' Tennis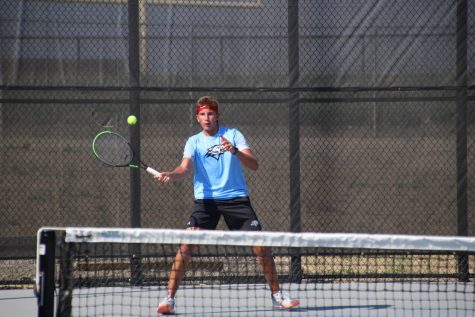 With the teams set and ready to go, the boys' tennis team looks to make great strides this year. They do not have any varsity seniors this year, so they still won't lose anyone after this season. A few changes have been made to the tennis squad, including the changing of the varsity team from eight to six players. With no juniors or seniors last year and facing very difficult competition, the Wolves had to treat it as a project season, focusing on the improvement of a very young tennis team. Now, with that year of experience, the Wolves are ready to take the fight back to everyone else. 
"I expect to see a lot of improvement from last year as a team," junior Ian Armbrust said. "I also expect to see a lot of tight competition in our varsity squad." 
As of now, the varsity team currently includes sophomore Eli Shada at number one singles, sophomore Ryan Mensch at number two singles, Armbrust and junior Jon Doscher playing number one doubles, and sophomore Luke Butler and freshman Sheamus Sinnott at two doubles. The Wolves kicked off their season yesterday at Skutt Catholic.
Cross Country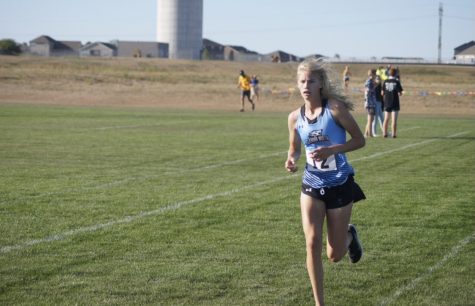 As longtime Coach Bob Wolf continues in his second year at Elkhorn North, the Wolves' cross country squad is one that is filled with depth and talent. The girls' cross country team qualified for state last year, bringing Britt Prince, Corinne Mead, Collette Sneau, Sydney Stodden, Meghan Cunningham, and Madison McLaughlin as well as boys runners Michael Grigsby and Jack Sinnott, to state. This year, the Wolves runners are confident that they can top last year's successes. 
"I expect that we are going to build a tight, cohesive team of people who work hard together and support each other," Coach Wolf said. "Because of that, we will be competitive in races." 
Top runners early on for the boys include Grigsby, Sinnot, junior Rowan Leahy, junior Ethan Edwards, and sophomore Ryker Pithan. For the girls' squad, the six state runners from last year, with the addition of freshman Ella Ford, daughter of Wolves' athletic director Luke Ford, have shown promise early on. With solid runners across the board, the Wolves are primed for a successful season which will begin tomorrow at Norris.
Softball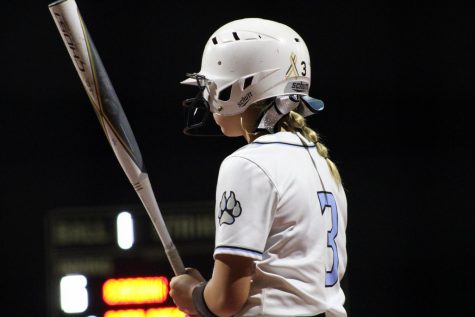 Coming off of a solid inaugural season, the Wolves are ready for year two on the diamond. Elkhorn North has a solid senior presence this year, with seniors Mattea Martin, Bailee Rinn, Riley Brandt, Michaela Palmer, Kenzie Heedum, and Molly Bruggeman. Martin looks to be one of, if not the best hitter on the Elkhorn North squad, and maybe one of the best throughout Class B. She led the Wolves in most hitting statistics last year and ended up being a Class B honorable mention. The Wolves competed in almost every game last year, and they look to improve even more this season. 
"This year, we want to compete with every team we play," junior Allie Tabaka said. "We play a lot of good competition and Class A schools. Teams in Class B are pretty good too." 
Sophomore Addy Maxell will continue to be behind the dish as catcher for the Wolves. Sophomore pitcher Raegan Pearson has continued to improve over the offseason as well, after throwing a no-hitter in her first ever high school softball game last season. Elkhorn North fell to Beatrice on Tuesday this past week, but has shown a lot of promise over the offseason.
Volleyball
The Class B volleyball rankings came out on August twenty-sixth, and Elkhorn North snagged a number five spot. Later that same day, the Wolves stunned the number four Antlers in a 3-0 sweep. This Elkhorn North volleyball team is a threat to all Class B schools, and they have a very realistic opportunity to make a state run this year. Led by recent Purdue commit Grace Heaney, the Wolves are coming off of a very competitive season last year, in which the team was filled with only sophomores and freshmen. And that means that Elkhorn North is in the position to have all players return for a second time after this season. 
"Our expectations are to 'out team' everyone we play," junior Charlotte Christo said. "We want to be the loudest team on and off the court and to play together and have good teamwork." 
Alongside Heaney and Christo, other notable players for the Wolves include sophomore Reese Booth, junior Hannah Nadgwick, junior Morgan Going, and junior Kailey Hrbek. There is a lot of potential circulating this Wolves volleyball team, and after Thursday's domination over Elkhorn, the Wolves seem to be hitting a good stride right off the bat.
Football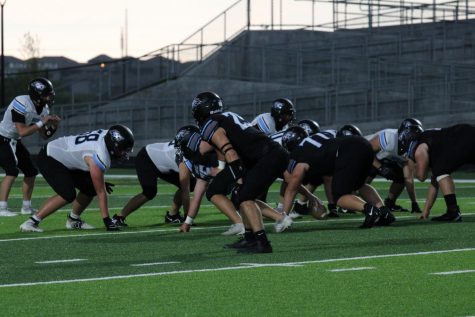 The absence of seniors seemed to prove more fatally last year in football than in any other sport. However, the Wolves football team is treating these first two seasons like one combined season, due to the fact that all players returned after the 2020 season. There have been tremendous improvements from last year's team to this year's team. 
"I think the biggest thing is, we've put in a lot of work over an eighteen month period," head coach Sam Stanley said. "It's been incredible how much the guys have grown physically, mentally, and emotionally. We just feel like we're a completely different team than we were a year ago." 
The Wolves kicked off their season on August twenty-sixth, barely losing to Waverly 20-14 in what was a dogfight of a game. Both teams played scrappy offense in the first half, and lockdown defense in the second, with Waverly barely nudging out the victory. But the Wolves looked like a very good football team. Quarterback Easton Maines has become a dual-threat quarterback. The running back corps, including Christian Young and Sutton Johnson, is a deadly one. Kyree Bennett is excellent on both the offensive and defensive sides. Division One prospect Shan Acharya looks to be a premier offensive lineman in the state of Nebraska. The Elkhorn North football squad scratched a 10th place ranking in the Class B preseason rankings, and have the potential to be a tough team to beat this year.
Follow @WolvesSTRIV on Twitter for future broadcast updates and go to striv.tv/channel/elkhorn-north to watch games online!
Leave a Comment
About the Contributors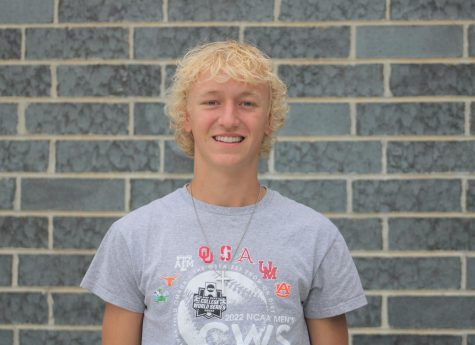 Caleb Polking, Sports Editor
Caleb Polking is a senior in his third year on staff. He's a STRIV guy and helps run the Howler's sports scene. He also loves to jump on desks and put peanut butter in the ceiling.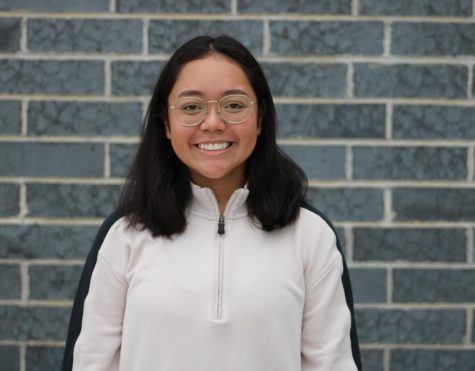 Tara Binte Sharil, Managing Editor
Tara Binte Sharil is a senior and the managing editor in the North Howler. This is her third year on staff and she enjoys designing the print issue. Tara loves to listen to rock and R&B.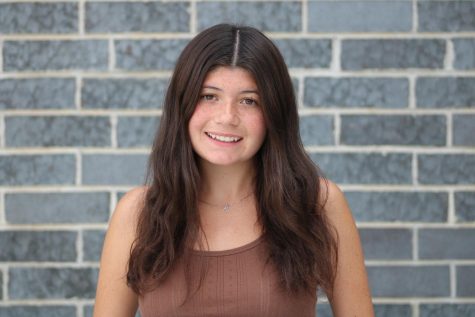 Alicia Hernandez, Reporter
Alicia Hernandez is a reporter on the North Howler. She participates in SADD. She also runs cross country and plays soccer. This is Hernandez's third year on staff as a senior.