The Success of Female Athletes at Elkhorn North
Elkhorn North has an abundance of talent within its girls sports program.
It is only Elkhorn North's second year in existence, but its trophy case is already full. The success of girl athletes at Elkhorn North is obvious. The athletes have exceeded in Class B competitions, and after taking home lots of plaques through the basketball, cross country, and golf seasons, the girls are ecstatic for another year.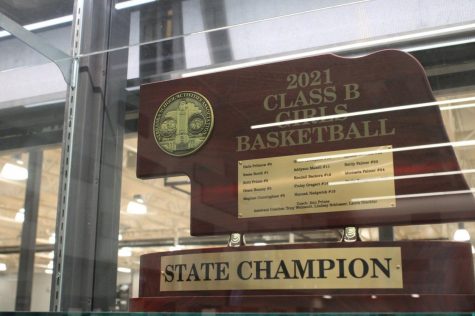 Last winter, Elkhorn North girls won the state championship for Class B basketball. As a first year school without seniors, this was legendary, and their success will be remembered in Elkhorn North's history. 
This success doesn't come easy. The girls trained endlessly on the court after school, watched tapes to familiarize themselves with their opponents, and simply put in the work. 
"To prepare in practices we had a scout team that we played against, which is just a bunch of girls on our varsity team that played against us and really helped simulate what Norris would look like," Junior basketball player Grace Thompson said.
All of their hard work in practice led to huge success on the court, going 22-2 for the season. 
"The girls were confident with the game plan going into the game," Head Coach Ann Prince said. "They knew they had to compete well and each girl bought into their roles on the team." 
When the girls knew they had won the game, they went crazy. "They ran together and hugged, screamed and cried and ended up in a large dogpile on the floor," Prince said. "Lots of joy, hugs, and smiles."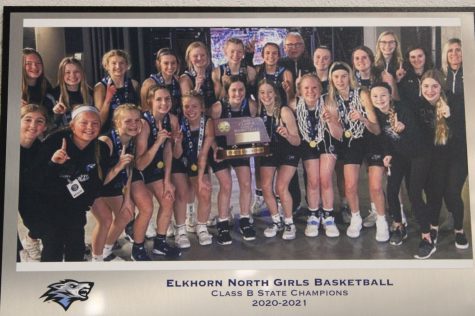 There are high expectations and goals for this season of girls basketball. The team is known to get along well on and off the court, and work hard endlessly. With these values in mind, success is guaranteed. 
"[My expectations for this season are] to just keep growing and getting better as a team and improving from last year because there were still things that we could have improved on." Thompson said.
The girls success in athletics at Elkhorn North doesn't stop in basketball, the cross country team has also proven to have major talent. At the state meet last year they placed 7th out of 12 teams for class B. Out of the six, freshman Britt Prince placed 5th and Corinne Mead placed 12th.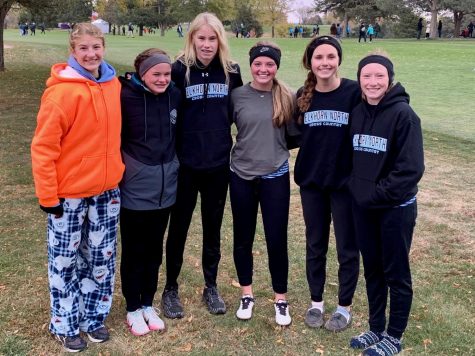 Getting used to the new school and transitioning into a leadership position as a junior took some getting used to for the team. 
"I think last year was more a process of getting to know each other, trust each other, deal with changes," Coach Bob Wolf said. 
Leading up to the state meet brought focus, hard work, but also confidence from everyone. 
"We did a lot of fun stuff like theme weeks and our practices became a lot more short and fun," Runner Madison McLaughlin said. "We were very focused on championship season."
At the state meet there were fans, family, and competition everywhere cheering for the Elkhorn North girls cross country team. 
"We were all super excited and I personally felt accomplished." McLaughlin said. 
The team brought what they knew from last year and implemented it into this season. 
"We have had both individual and team success, since there was already a bond we are competitive and we have depth so there's fighting for varsity, but not with each other." Wolf said. 
The team plans to exceed this season, compete at state, and do even better than last year. 
Also in the fall, the girls golf team has proven to be immensely successful. In the state tournament last year they placed 3rd overall with girls also individually placing. 
Last year the girls golf team recognized a major advantage they had.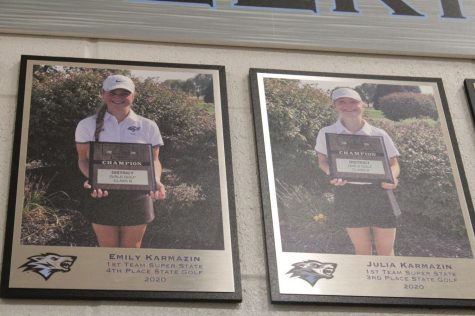 "We were so young, we knew nobody was leaving, so we knew we got this," Golfer Emily Karmazin said. 
With that confidence and good ideals in mind, the team was set up for success. 
"This is an opportunity to have fun and show the rest of everyone out west what we're capable of, and just enjoy ourselves," Karmazin said.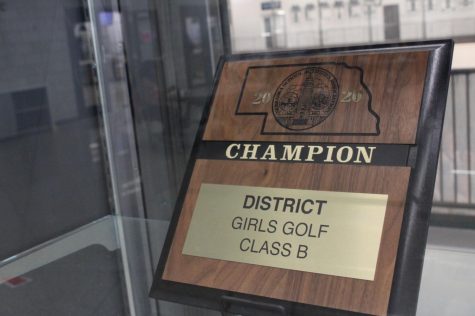 Their mindset of joy and confidence really relieved the pressure for state. The team also tried to keep in mind it is a team sport so all the pressure isn't put on one person. This season is expected to be even better. 
"I think we have a good shot at getting the state title or even just runner-up would be awesome," Karmazin said. 
By working hard, filling the trophy case with plaques, and getting to take home medals regularly, the girl athletes at Elkhorn North have proven to be extremely successful in what they do.
View Comments (1)
About the Contributor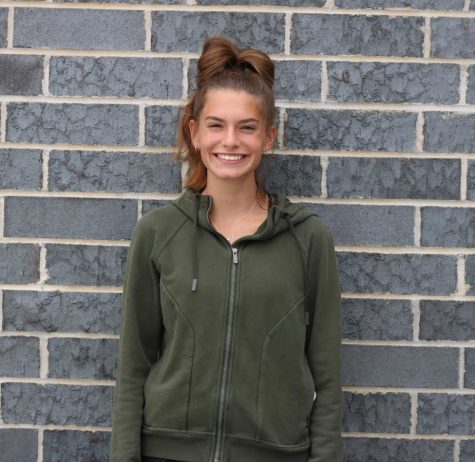 Sami Frost, Editor-in-Chief
Sami Frost is a senior at Elkhorn North High School. This is her third year on newspaper staff, and she is editor-in-chief. She is involved in cross country and track.