Bennington's Dominance and Everyone Else
While entertaining, the Class B football season did not live up to the hype that 2020 had produced
When one is looking at a sports season and speculating on championship status, a number one seed vs. number two seed is usually not one that most fans enjoy. That's ultimately how the 2021 Class B football season played out, failing to follow in the footsteps of an electric, high stakes 2020 season.
While we all know Bennington was the undisputed best team in Class B this year, there was certainly more that happened worth noting. Here are several of my thoughts from the 2021 Class B football season.
The "B" in Class B stood for Bennington this year
We don't need to spend too much time on this, but we can all agree that Bennington was one of, if not the, best Class B teams in recent memory. This year's Badgers might even be up there as one of the best Class B teams of all time.
Led by monster of a running back, Dylan Mostek, Bennington rolled over every team it faced this year with its closest game being an eleven point victory over Aurora in week two. That's pretty crazy. 
We thought maybe, just maybe, number two seed Aurora could keep it close against the Badgers in the state championship game, but who were we to hope for such a thing? Bennington took good care of the preseason number one ranked team, according to most, in a 42-14 routing of Aurora.
It could be a long time before we see a team like this again where the playing field is so extremely uneven. Props to the Badgers though; what an incredible season.
Surprises
Although we did see the number one and number two teams facing off in the state championship, there were still some surprises throughout the season. Maybe not quite the same as in Class A, where we saw a Cinderella Story in Number Sixteen Seed Omaha North advancing to the semifinals and Number Five Seed Gretna winning it all, but it's pretty tough to top surprises like that.
The first surprise would have to be Bennington yet again. I know, I'll move on from them soon. But in its season full of uncontested dominance, it was still a surprise that Bennington even won the state championship in the first place.
Most people went into the season predicting the Badgers would finish in the upper middle of the pack in Class B. I can admit I was one of those as well who had no idea Bennington would be the kind of team that it ended up being. With that being said, Bennington was definitely a surprise.
The next surprising matter was Skutt's state tournament run. The Skyhawks were one of the most inconsistent teams of the season, securing several big wins on the schedule while also being blown out a few times, including a disappointing 33-13 loss to Elkhorn to finish the regular season.
Despite not having a "typical Skutt season", the Skyhawks still mustered a semifinal appearance after downing Norris 31-10 in the first round and stunning then-undefeated Plattsmouth in the quarterfinals. Aurora barely escaped Skutt, 21-17, in the semifinals.
Elkhorn surprised most as the Antlers were able to put together a state semifinal run and only two losses (both to Bennington) despite losing a heavy senior class from its 2020 state championship team and losing star running back Braylon Johnson in week one.
Roncalli, Seward, and Scottsbluff were other surprises worth noting across the state as they achieved respectable seasons that many did not anticipate.
Disappointments
Norris would easily have to be the number one most disappointing team in Class B this season. It went from a program full of talent across the board including James Carnie and C.J. Hood, to a mediocre, middle of the pack Class B team this year. 
After blowing a 28-7 lead over Waverly in the final game of the regular season, the Titans were handled by Skutt in a 31-10 blowout in the first round of the playoffs.
Plattsmouth's end to its season was another disappointment. Sure, the Blue Devils had one of their best seasons in a long time with a 9-0 regular season record, but it took a slip in the playoffs as Plattsmouth barely edged out lesser opponent Omaha Gross and was then upset by Skutt in the quarterfinals.
Outstanding Players
Class B saw some incredible performances over the course of the season. The first outstanding player would easily have to be Bennington's Dylan Mostek. 
The senior running back compiled 2,872 rushing yards across twelve games this season to finish eighth nationally in that stat. On top of that, he averaged 9.5 yards per carry. He was a tough dude to tackle, to say the least.
Another running back, Ralston's Rashad Madden, had a tremendous season. He notched 1,186 rushing yards and 12 touchdowns. Unfortunately, Madden ran for an unsuccessful, 3-6 Ralston program. Give him an all around better team and his stats would have been within the range of Mostek's. 
Seward quarterback Gavin Sukup threw for 2,106 yards. Cameron Aughenbaugh of Plattsmouth led Class B with 105 tackles. Victor Isele of Grand Island Northwest led the class in sacks with a total of 7.
A look ahead to next year
The playing field is open as of now. Bennington will lose a stacked senior class and will likely drop within the ranks of Class B, giving everyone a chance to step in the Badgers' shoes. 
Aurora will also drop off as it loses a senior class that has led the team to back-to-back state championship appearances.
We don't know much as of now. We can be sure that Skutt will be a contender as it always is. Norris will likely bounce back after an irregular season in the historical context. Both of these teams, however, will have to replace quarterbacks Caden Becker and Cooper Hausmann, respectively.
We can all be sure of this though: Elkhorn North will be winning the Class B state championship next season. End of story.
Leave a Comment
About the Contributor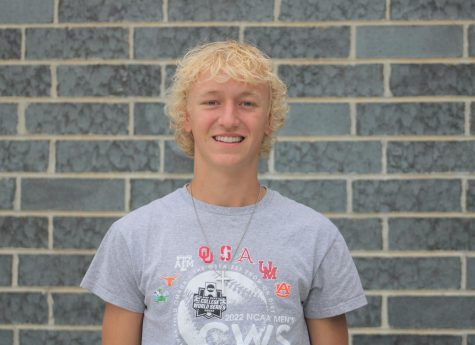 Caleb Polking, Sports Editor
Caleb Polking is a senior in his third year on staff. He's a STRIV guy and helps run the Howler's sports scene. He also loves to jump on desks and put peanut butter in the ceiling.